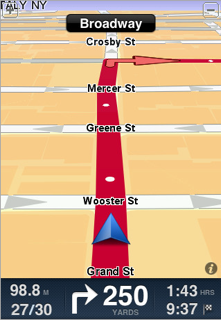 Ok so I was waiting all summer for the TomTom iPhone app to hit the app store. I am a bit disappointed in the lack of options. I of course waited for others to download and try. Or should I say point out all the missing features and glitches. I'm surprised no one has mentioned that you can't change the pointer to look more like your car. What's up with that?

Here are a few screen shots I took from the app store of customer reviews. Actually none of them sound at all promising.

I'm also thinking that this app probably works better on the 3GS than the 3G because of the upgraded processing speed.

Click on each image to read the comments.












So TomTom I think its time to take it back to the garage and make a better app. Preferably more like one that you offer on all your stand alone units.

I won't be buying this app anytime soon. I think ill just stick to my good old google maps. Oh wait I have turn by turn with Onstar. And I just love that.

From the laptop of Bastian Gatten